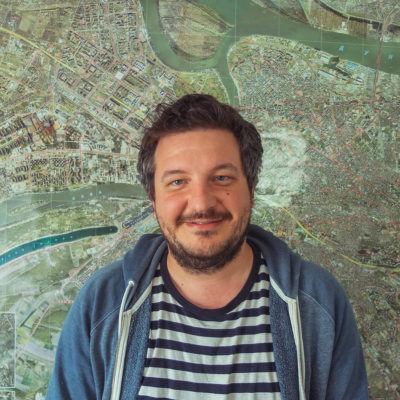 Marko Aksentijevic
MINISTRY OF SPACE I RS
Biography
Marko Aksentijevic has over 10 years of experience in fighting for spatial justice though numerous collectives and organizations that he co-created in Belgrade, Serbia. With a background in political science, his activities have focused on fostering citizen engagement and public policy regarding spatial equality, and enhancing the effectiveness of the management of public resources. His work spans from squatting abandon buildings, over establishment of housing cooperatives to organizing massive demonstrations.
Ministry of Space was formed as the collective in 2011 with intention to activate different unused spaces through direct action and municipal negotiations. It further evolved into resource hub for local groups striving for spatial justice and a pillar of various Belgrade-based and national campaigns advocating for more democratic and meaningful public property management. Parallel to that, other programs were developed, expanding organizational mission to encouraging and fostering citizens' participation and mobilization in defining public interest in urban and spatial planning. In the last five years, the organization supported numerous groups to reverse planned changes of urban plans that would unmake urban fabric of their neighborhoods. It also initiated, organized and led multiple bottom-up struggles that address specific urban development or management of public goods. 
All sessions
Ce fel de oraș dorim?
14 iunie, 2019
2:30pm - 4:00pm
WORKSHOP ROOM (STUDIO)